Introducing Chinese Face Reading
Chinese Face Reading is an ancient art and science that is a branch of Chinese Medicine dating back 3000 years.  Originally it was used as a diagnostic tool.  I use it more as a personal development tool when working with clients.  The face is a map that represents a person's personality, history, experience, present and future.  It can reveal stories and themes of a person's life.  I love talking with people and hearing their stories!  I love hearing what lessons people come to learn and what purpose they are meant to bring to life.  This year, I am being called to share this work.  My goal is to showcase lightworkers and change-makers in the world and build awareness about the practice of Chinese Face Reading.  I'm extremely honored to showcase Robyn Williamson, who is my first beauty to be in the spotlight!   Read on to learn more…
Who is Robyn?
I met Robyn on a trip in New York City at a makeup session at Nina Maria's makeup academy in New York, we quickly connected and scheduled a reading.   She was open to sharing some things that we discussed, so I am excited to share my first face reading spotlight on the Project Gorgeous blog!  
Robyn was born and raised in Victoria BC, Canada.  She is currently living in New York City, working as a model.  Robyn has always dreamed of being a model.  She is super passionate about organic clean living and skincare, and you can see this easily in photos of this natural beauty.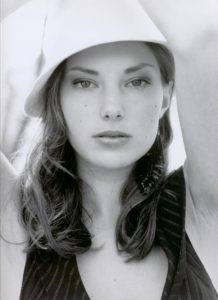 Robyn has a grace and ease that is so pleasant – she's so down to earth which enhances her beauty even more.  We bonded over our common interest with Eminence Organics Skincare (my obsession and Robyn's newfound love) and Robyn expressed interest in my practice as a Chinese Face Reader.  Because Robyn was so open and curious to the process, we were able to dive in and here are some highlights on her reading:
Robyn's reading
Robyn has markings on her right ear at between the ages of 3-5, which can denote a huge life change – either a move or the arrival of a sibling and she has a sister that arrived at that point in her life.  The hairline is referred to as the Mother's Influence. Robyn's hairline is smooth, which can signify that a maternal influence taught her social graces.  Her wispy hairs can imply having a close relationship to her mother.  Robyn is classy with elegant features and when I mentioned this, she attributed this to her mom!  She also has a great rounded forehead that shows just how intuitive she is.
Robyn's brows are long, which can show she has long lasting relationships.  Her eyes are kind and deep.  You can instantly sense this about Robyn when you interact with her, which is such a refreshing experience, given that she is a beautiful model living in a concrete jungle!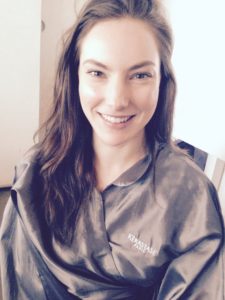 We talked about different patterns that came up in her life. I suggested tips that she could do to add balance to her life and fuel her soul. We covered much more and due to the private nature of the reading, this post is just an overview of her features.
Robyn's tips on being a healthy beauty:
We talked about being conscious of the balance between taking action and resting.  Robyn confirmed this is an important theme for her and she reaffirmed her dedication to self-care.    She loves investing in skincare and starts her mornings with lemon water.  She is currently using the Apricot Body Oil, Bamboo Firming Fluid, Lavender Concentrate, Coconut Moisturizer and The Tropical Vanilla Day Cream in her skin care regimen from Eminence Organics.  
Makeup and Chinese Face Reading
As mentioned previously, I met Robyn at a makeup class in NYC.  After speaking with her and learning about her life, I learned she was going on a date after our lesson!  When I saw her brows, I knew she had long lasting relationships.  Because she knew this person for 4 years as a friend, I suggested we go with a berry color for her lips instead of going va-va-va-voom red.  I wanted to highlight her natural look, while also creating a romantic look that was inspired by Natalie Portman in Christian Dior ads.  Interestingly enough, Robyn shared that Natalie Portman is a huge inspiration of hers.  She showed me Christian Dior ads she has saved in her phone!  Here is our before and after look: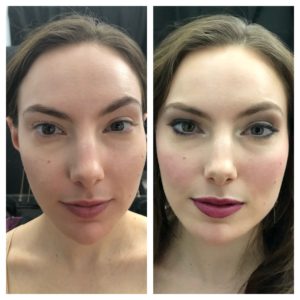 Robyn reported her date went well and they spent all night immersed in interesting conversation.  Lucky guy!
You can follow Robyn at @robynwilliamson on Instagram.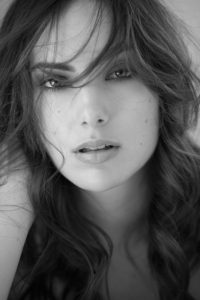 Like this post?  Comment below or share!
Interested in a Chinese Face Reading?  Book HERE
In the Indianapolis area?  Book an acupuncture session or facial HERE