Who is Karmen Fink?
All of her life, Karmen has been considered the catalyst – the glue that has held people and relationships together. She is always the life of the party, planning Girls Night Out gatherings, crafting fundraisers, bringing multiple communities together in one night, and creating both women's events and a community carnival at church.  This led her to launch Spark & Celebrate in April 2014. She started managing fundraisers, galas, social events. As she changed, her vision for her company re-aligned with who she really is, an inspiring magical force who is passionate about guiding people through their spiritual journeys.
Karmen's business: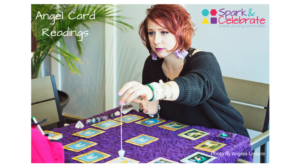 Karmen creates innovative events designed to bring the religious community and the Spiritual/energy community together with the intention to guide people as they grow in their Spiritual lives! Her mission is to help people get connected to their higher-selves. What is my "higher-self"? She defines this as your intuition, your guides, God/Source/Love/Universe/Higher Power/Energy.
Karmen believes that when you are disconnected from yourself, Source, and others – you aren't serving anyone. She knows this because as she was growing up she was shamed, judged, and ridiculed. She allowed other's stories to be her story. This has helped her understand that when we are disconnected from Source – fear, hatred, bigotry, and lies are created. When we are connected with Source – Love breeds more Love. Only Love is real (ACIM).
I had a chance to ask Karmen a couple of questions:
What made you want to do what you do or be what you are?
I always say I am a beautiful combination of my Mom and Dad. My Dad enjoyed gathering people together for parties and my Mom was the queen of planning events! From the gorgeous table displays to the delectable food, my Mom created it all! For 20 years, my family hosted a family weekend-long Pig Roast with anywhere from 85-100+ people every year in our backyard. We had games including water balloon toss, tug of war, and of course the pick-a-pocket lady always made an appearance! As a child, the pick-a-pocket lady was my Mom and later, she passed her crown to me!
What made you want to start your business?
After working with a life coach, Lindsay Boccardo, I realized I am an event planner and always have been. Up until that point, I had yet to step into my power and get paid for my services. Shortly after, I created Spark & Celebrate, events growing communities.
I attended a Spiritual life event soon after launching Spark & Celebrate that changed my life! That event is my inspiration for Experience Your Awakening! An upcoming event launching in Indianapolis. During this one day experience, you are given tools by those who had an influence in my life to help you discover your life's purpose! Stay tuned for the launch date!
What inspires you to do what you do?
I love to interact with people who are curious about the energy community and desire to create a different life for themselves, yet aren't sure of their next right steps. That's where I come in! After I learn more about their goals, I can direct them.
What are the strengths that you are most proud of?
I am a visionary, a creative, an activator! I have visions of an event and bring them to life!
What are you most proud of in your business? What is something special and unique that you offer?
Experience Your Awakening ~ inspiring passionate purpose is an upcoming one-day event that I am the most proud of.  It is a unique event which brings the religious community and energy community together to learn from each other!  It is my belief that we are saying the same things, yet using different words/methods to get to the same understanding. My vision for this event started in 2014 and in 2017 I gathered a team of people who embrace my vision and are committed to launching EYA soon! There is not another event of its kind — live music, breakout sessions with all local speakers, and a Rest and Restore (R+R) room where attendees will learn meditation, have access to prayer stations and assisted prayer, and learn about himalayan salt lamps, the chakras and energy stones. My mission is to give attendees tools to help them discover their life's purpose and live it out loud!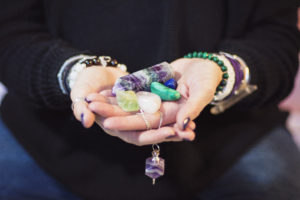 What are some big lessons you've learned in your career or life path?  Any advice you would give to your younger self? What advice would you give your future self?
I have a book coming soon! I would tell my younger self to trust yourself – your intuition. Do what is true for you. And regarding that to-do list you have, there will always be something to do. Do what you can and enjoy life! Your JOB is just that…now your passion…align daily with your passion! Love, give back, help others and be happy where you are now.
What is your biggest wish for your clients?
Connect with your higher-self and create your life from the inside out! Discover who you are, your passions, what is holding you back, and live your authentic life doing what you Love!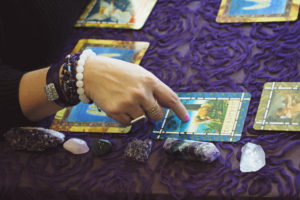 Karmen's reading: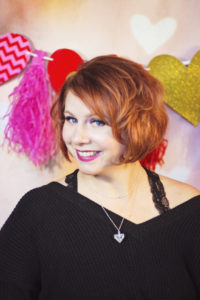 As you can see from Karmen's photo and read from her interview, Karmen is a lively spirit!  She has a rounded forehead at the top 1/3 of her forehead, which denotes that she is imaginative, creative and must follow her ancestral talents and skills.  She shared that there are ministers in her family bloodline, which falls in line with what she wants to do with her company!
The middle of her forehead is flat and she has a prominent brow bone, which signifies the attitude that "you're not the boss of me!  Ask me, don't tell me".  Karmen's indented temples can display a desire for altered states, like meditation, which is a big part of what she offers in her business.
Before Karmen launched her business, she was working in a corporate setting.  I'm mentioning this because her right eyebrow is straighter than her left eyebrow.  Features on the right side of the face showcase our public side, while features on the left side of the face showcase our private side.  A straight brow can denote a logical way of approaching things, while a peaked brow (much like her left brow) can denote an impulsive or fiery nature.  This contrast shows that she was presenting one side to the world while her private side was hiding her fiery side.  This could be because why she presented a separate persona in her corporate job vs. what she truly felt on the inside.  The good news is that after 20 years in the corporate world, Karmen has come to embrace her fiery side and has stepped into her true entrepreneurial nature!
Karmen's eyes are very open, which means that she is open-hearted and has big love for others.  She has a strong powerful nose which tells us she can be a great leader.  She has a wide mouth which shows us she values connection, community and relationships.  Her chin is strong, which tells us she has a tenacity, determination of willpower and is resourceful.  Karmen describes herself as the life of the party, and she is!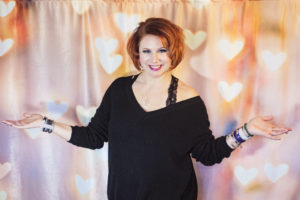 Karmen's health & beauty tips:
spend time in nature as it resets your energy.
clean your make-up brushes regularly
try new colors each season
every night before bed, be sure to take off your makeup and cleanse! 
Karmen uses the Stone Crop Cleansing Oil to remove her makeup and Blueberry Soy Exfoliating Cleanser to cleanse her face.
You can follow Karmen at @sparkandcelebrateevents and @karmen_fink on Instagram.
Like this post?  Comment below or share!
Interested in a Chinese Face Reading?  Book HERE
In the Indianapolis area?  Book an acupuncture session or facial HERE