THIS MONTH Kelly Ramsey from Beneficial Skin and Body is featured!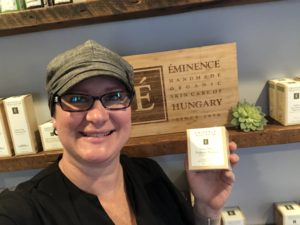 About Kelly from Beneficial Skin and Body Care
Kelly has been in this industry for 10 years, 8 of those year she has been an Esthetician.  She completed an apprenticeship to earn her esthetics license, worked in a spa and opened her own spa Beneficial Skin and Body Care in 2016.  Prior to this Kelly was a teacher
I had the chance to ask Kelly some questions:
What made you want to become an esthetician?  I was always interested in skin care.  I was the true definition of a product junkie and was always looking for life hacks on how to clear up my adult acne.   When I started working as a receptionist at a Facial Spa, I knew I found my next career and true passion.
What made you want to start your business?  After working at the Facial Spa for 8 years, I started to yearn for more.  I was ready to create my own vision.  My ideal setting was to have an environment where clients could come in and take care of all their beauty needs. I Partnered with a Nurse Practitioner so we could create a space for medical and spa esthetics. We focus on all areas of health and wellness, not just skin care.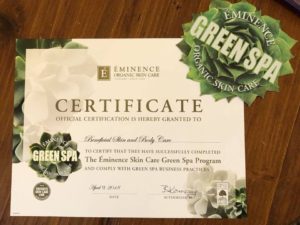 Beneficial Skin and Body Care is an Eminence Green Spa Partner as of April 2018!
Tell me more about your passion.  Passion is a word I can use in many aspects of my life, but the word passion in my business takes the word to whole new level.  I love what I do.  The ability to help someone reach their goals, whether it be beauty or health and wellness, has become my passion.  I get to come to a job where everyone is happy and passionate.
What inspires you to do what you do?  My clients are my inspiration.  I love being able to help clients find their true inner beauty.  I believe that beauty is the result of health and happiness – something that shines from the inside out.
What are the strengths that you are most proud of?  I am most proud of my integrity.  The ability to build a trusting relationship with my clients is so important.  I am honest to a fault.  I also love to research products and client concerns and I will do whatever I can to help them solve their concerns.
Do you have a theme for your business?  We don't really have a theme but I believe my business name says it all…  Beneficial Skin and Body Care "Beneficial from the inside out".