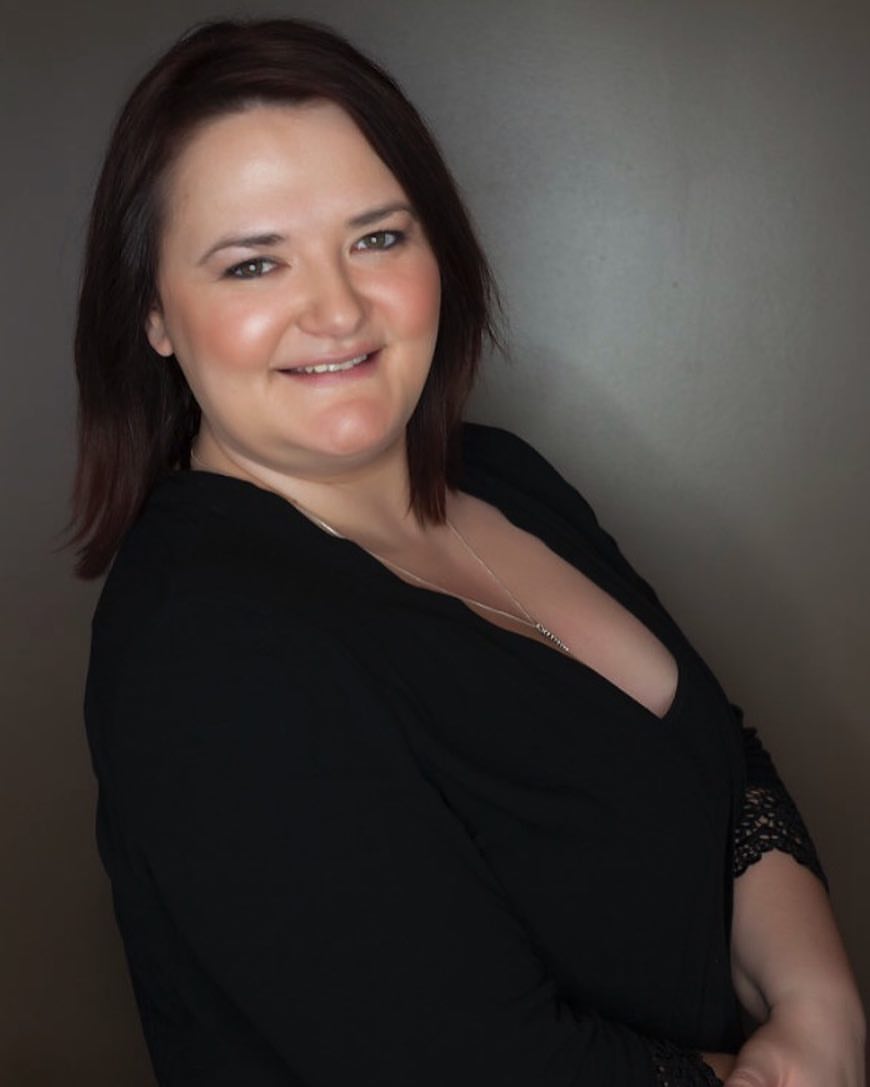 About Sara from Faces Skin Care & Massage
Sara started her journey in this industry as a hair stylist. She received her cosmetology license in 2005 and spent about 6 years focusing on hair. She took many classes and her career advanced quickly, becoming an Aveda Color Coach at a salon in Lansing, Michigan and pursuing a color course at Vidal Sassoon in London, in 2007. For the summer of 2009, she was offered a job at the Lilac Tree Spa on Mackinac Island, Michigan. She was looking for something fun and wanted to take a short break from doing hair. She had been go, go, go with her hair career and after traveling through Europe, she was ready for a change. The position on Mackinac Island included up-dos for weddings, natural nail services and facials using Eminence. After her first summer, she fell in LOVE with the products, the instant results she saw and the services that she was offering. She always felt that what made her great at doing hair was her confidence and her creativity and when she started to dive into skin care and facials, she realized she could also be creative with those services.  She was also able to deliver relaxation, healing and lasting results with her hands and it was awesome! Sara ended up spending 3 summers on Mackinac Island, attending various skin care classes during her time off in the winter months and falling deeper and deeper in love with Eminence products and services. In 2012 she opened an Eminence account of her own as Faces Skin Care & Massage and the rest is history.
I had a chance to ask Sara some questions:
What made you want to become an esthetician?
I wanted to be a part of the beauty industry simply because I thought it would be a fun way to make a difference for someone.
What made you want to start your business?
When I started out, I was a single technician renting a room in a hair salon/spa. I put all of my savings into opening that little room for business and I had just moved to town (Kalamazoo) so I didn't have any clientele. I had interviewed at other places in town and what made me want to go on my own was that no one else, that I was able to work for, was offering Eminence. Interview after interview, I just couldn't bring myself to use another brand. About 6 months into that endeavor, I started to daydream about a spa of my own. I wanted to be able to offer more to my guests and I wanted to offer a great place to work and grow, to a team of like-minded estheticians.
Tell me more about your passion.
My passion is taking care of people. From the second someone walks in the door to my business, to the second they leave, I want them to feel valued and taken care of. Paying attention to every detail comes naturally to me. I'm passionate about offering, not only an exceptional skin care treatment, but an exceptional experience. I'm also passionate about teaching, and helping my team reach goals and excel in this industry.
What inspires you to do what you do?
I would say my guests inspire me. When our spa guests are engaged and happy, I just want to keep going and going!
What are the strengths that you are most proud of?
I'm most proud of my creativity and for never giving up-which kind of go hand in hand. When you open a business, you have no idea what you're in for. You have to get creative and keep going.
Do you have a theme for your business?
We offer a comfortable yet rustic kind of atmosphere.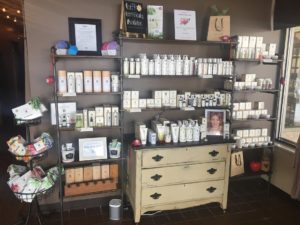 What are you most proud of in your business? What is something special and unique that you offer?
I am most proud that the business is still thriving! We are 4 years old this year and we're still going!!  Something special we offer is a complimentary foot soak before every service. We also throw really entertaining open houses!
Who is your dream client?
My dream client is someone who comes to the spa at least 1 time a month, is excited about new service offerings and products and refers their friends and family.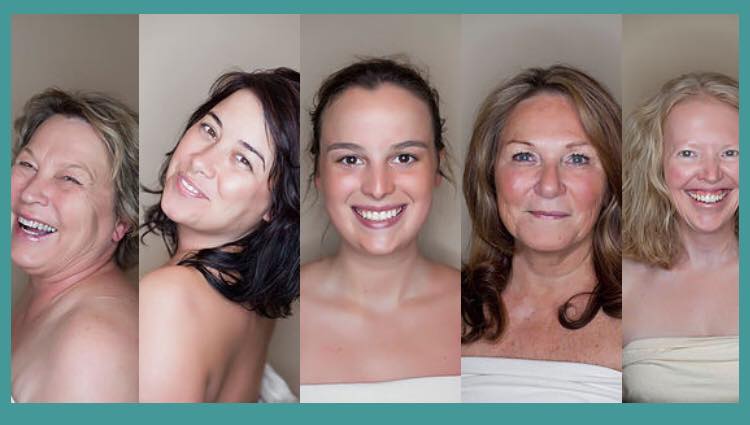 What is the common thread amongst your clientele?
The most common thread I find amongst my clientele is their enthusiasm! I think we have a very full clientele of people who love us and our spa.  (The image above is taken from the Faces Facebook business page and are clients that frequent Faces Skin Care and illustrate this common thread perfectly).
What are some challenges you face in your business?
Some challenges I face are managing my employees. It's a very different role compared to just working for yourself. When you have a full staff of so many different personalities, it can get a bit overwhelming.
Can you tell us what are some major lessons you've learned as a business woman in the spa industry. What advice would you give to your younger self?
I've learned how hard it really is! I never went into business ownership thinking it would be easy necessarily, but it's a lot harder than I thought! I've also learned that stereotypes are real and you do come across people that think you have to prove yourself a little more when you are a. a woman and b. young. The advice I'd give to myself is – GO FOR IT! You'll be just fine, you have to just keep going and don't give up. I'd also tell myself to take time off and enjoy your life-you do not have to live, breathe and bleed the business for it to be successful, you deserve some down time.
What are some major lessons you've learned as an esthetician?  Any advice you can offer to someone starting out? What advice would you give your future self?
The biggest advice I'd give to my future self and someone just starting out is – never stop learning. Attend every class you can, ask for trainings or advice from colleagues, try something new or out of your comfort zone before you decide you don't like it. Toot your own horn but just remember that you're not the only one with a horn.

Can you share one of your favorite mixology combinations? There is absolutely no way to pick a favorite mixology as the possibilities are literally endless! I'd say right now, I really love applying the Mangosteen Pro Peel, leave on about 5 minuets then combine the Stone Crop Fizzofoliant & Soothing Chamomile Tonique and work in for about 5 minutes. GREAT combo for extractions!
Name a favorite service / special / promo you've offered.
Every May we celebrate the spa's birthday, each week out of the month we offer a different special. I celebrate my own birthday for a month, as I believe everyone should, so our Birthday month is always my favorite.
What is your biggest wish for your clients?
My biggest wish for our clients is that they stick with us, communicate if they have an issue and trust our services, our products and our work.
A mini Chinese Face Reading
As you can see in Sara's photo, Sara is a beauty!  Sara has been so supportive of my work that she had her very own reading in 2014.  She then hosted an event that included readings for her clients in 2014 and now we are circling back with another event in May 2018.
When I look at Sara's face, the main things that stand out initially are her eyes, cheeks and chin.  Her round eyes tell a story of someone who is bright, alert, caring and happy.  Sara's full cheeks show us that she is vivacious, yet practical.  Her prominent chin signifies that she is highly intuitive and has a tremendous amount of willpower to weather many storms.  She has a high forehead, which denotes her level of high intelligence, concentration and tendency to always be in her head!  This woman truly is a forward thinker!  Her earlobes are full and also show signs of being great at planning for the future.  Sara's core messages that came up in her reading are that she radiates a source of power and authority and is here to raise the vibration of the world.
Sara is hugely successful because she is enthusiastic, motivated, supportive and likes to bring an element of fun to her events and communication.  She values extraordinary service and customer service and believes there is a difference between a good facial and an extraordinary one.  Sara also believes there is a difference between a nice friendly front desk person and one that goes an extra step to ensure you are happy and valued.  She believes you can get good, nice and friendly anywhere.  Sara and her team strive to be extraordinary.
Sara has always been driven and a go-getter since the day I met her.  I have been Sara's Eminence Organics representative since 2012.   Sara is a perfect example that you can start from ground zero and flourish with the right amount of focus and commitment – she started in a small room in a fitness center to currently operating in a 3 room treatment space.  She is in the process of expanding to a bigger space that is focused on skin care and wellness only.  Sara has even inspired her mother to pursue esthetics, nutrition and aromatherapy! She has a strong social media presence and hosts creative cool events regularly.  The next time you are in Kalamazoo, book your next service at http://www.facesskin.com.  Voted Best Spa in West Michigan!
Like this post?  Comment below or share!
Interested in a Chinese Face Reading?  Book HERE
In the Indianapolis area?  Book an acupuncture session or facial HERE