Wellness Origin highlights Marketing Director, Claudia Varga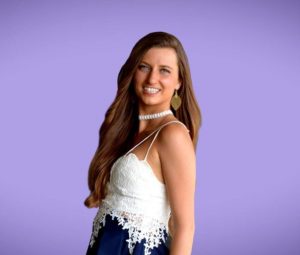 About Claudia
Claudia graduated from the Kelley School of Business with a Degree in Marketing & International Business in 2015. She is a Kelley Scholar and graduated as an Honors Student, began working as a Marketing Intern for Wellness Origin in 2012 and worked on building the Marketing Department every summer until graduating.  Claudia also received her RYT 200 Yoga Degree in 2015, teaching for Wellness Origin for 2 and a half years.   She pursued this path because business fascinated her growing up and she loved learning new facets of marketing, such as what influences people to make purchasing decisions and how to project the Wellness Origin vision effectively to their audience.
Wellness Origin's Beginning
"We began Wellness Origin because taking care of our health and wellbeing and sharing it with our community is a passion very close to our team's hearts. We love to combine this with our passion for beauty care and striving to be one's best self every single day. Our mission at Wellness Origin is to 'Bring Your Health and Beauty to New Levels' – we strive to bring our clients' wellbeing to a stronger place while helping them bring out their individual beauty. Relaxation is also a huge component of what we offer clients, as we are an Organic Day Spa & Wellness Center.  In the early few years of our company, we transformed our business into a Spa & Wellness Center to give our community precisely this – a place where they can become healthier AND more fabulous (the perfect combination in our team's eyes) through fusing health principles with ultimate beauty and relaxation treatments."
"Growing up, my Mom (Dr. Eva Vig Varga, Co-Founder of Wellness Origin) was an incredible role model for me in building a healthy lifestyle. I watched myself physically, mentally and emotionally transform as a person the more I embraced wellness related principles and foods in my life. When attending Kelley to pursue my Marketing degree, I found I needed to be mentally and physically relaxed and fully energized to build my career sustainably. I began our Wellness Origin Marketing department while I was in College, because I found combining my passion for Marketing with my own necessity to live a well-rounded, balanced, healthy life was a perfect fit for me."
Hungarian roots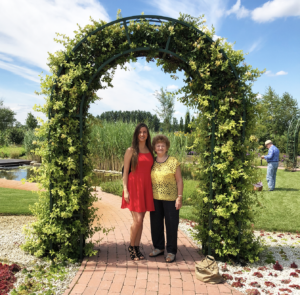 "While visiting Hungary, I took my Grandmother to visit the Éminence Organic Farm! It was an absolutely gorgeous and remarkable place! I couldn't believe it when I learned it is right next to her hometown in Southern Hungary
💕
🇭🇺 Éminence uses all Organic, Biodynamic Farming methods to create the highest quality skin care from nature!
🌸"
The Éminence Organic Farm was absolutely breathtaking. It was amazing to see the biodynamic farming in action and learn about the various plants. My Grandmother's exact words included "csodálatos" J My Grandmother has an organic garden at her home in Soltvadkert – we are very passionate about organic living.
My Grandmother lives in Soltvadkert, Hungary, which is a neighboring town to Fülöpjakab. My Mom, Dr. Eva Vig Varga, Co Owner of Wellness Origin, was born there. We couldn't believe it when we discovered the Eminence farm is so close to where our family comes from!
My entire extended family lives in Hungary, so it was a beautiful experience for me to connect my present work and passions with the country we call home.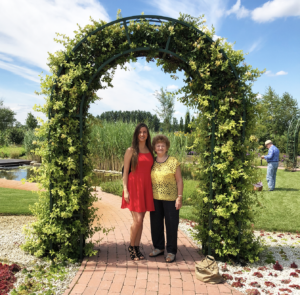 What inspires you to do what you do?
My inspiration is very heart-driven. Heart-driven in that it is a great mix of my passions for healthy living, Spa time, beauty care, Business, and Marketing. Creating new ways to engage our clients and help them grow is very rewarding, and I speak for our entire Spa team, too!  Boldijarre is a great role model for me, and we are very grateful to work with Eminence in our Spa.
What are the strengths that you are most proud of?
I am proud of our business for the caring relationships we build with our clients. We sincerely strive to educate them along their journey with us, so they can incorporate new health and beauty techniques into their daily lives for many years to come. We also have a very positive, team-oriented dynamic in our business. Our Spa Team supports each other and works wonderfully together; we uplift each other along our journey. Our Co-Founders Eric Hall and Dr. Eva Vig Varga along with all of our team members have an extensive amount of knowledge in our field, which is so amazing to share with our clients every day. We further are a unique place in Indiana – we are the only business with the combination of services we offer and the philosophies we convey.
What are you most proud of in your business?
Our mission is unique to our business in our area – we are so proud that we combine beauty care with truly nourishing and caring for your wellbeing. We provide the cleanest, best quality ingredients in our products and non-toxic, non-invasive services for becoming one's best self.
Who is your dream client?
Our dream client is someone who has a passion to better their life and the lives of their family members. He or she is someone who has a real interest in our philosophies and wants to grow with the knowledge we offer them.
What are some challenges you face in your business?
A challenge we face is working with clients who are not interested in taking the additional knowledge we provide them to maximize the results of our services and their overall wellbeing; however, we understand it is everyone's own choice what they decide to take away from their time at our Spa.
What advice would you give to your younger self?
From a business standpoint, I would advise my younger self three things:
Place a larger emphasis on market research!

We value authenticity on our team.

 Be flexible and be a good listener.
What advice would you give to someone starting out?
I would advise new Estheticians to work with another person in the business on practicing sales, and do so on a consistent basis to grow. Also, he or she should consult the Eminence website on a regular basis for answering questions on products as he/she is learning the ropes.
Favorite Eminence Product: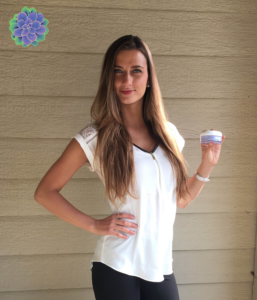 Strawberry Rhubarb Masque, can I pick 5 more? Eminence is amazing!!
Favorite Mixology:
Calm Skin Chamomile Cleanser x Strawberry Rhubarb Dermafoliant
Favorite Service you've offered:
We featured a Chocolate Strawberry Facial in a promotion, along with a few products from our Wellness Origin line. It was fabulous!
What are your core values?
Wellness Origin Core Values: Authenticity, Passion, Teamwork, Amazing Client Service, and Dependability
(We love Eminence's core values!)
A mini Chinese Face Reading
The three features I notice instantly when I look at Claudia are her eyes, nose and chin.  Her eyes sparkle and radiate curiosity and positivity.  She has a strong business nose and will really step into her personal power in her 40s.  She has a cleft in her chin, which is the mark of a performer.  Claudia is a musician as well in a band called Zene.  Claudia has a light energy about her and is always excited and passionate about health, beauty and wellness from the inside out.  If you are in the Carmel, Indiana area, stop in to experience their services and store at http://wellnessoriginindy.com – I often shop here for all of their high quality products and supplements!
In the Indianapolis area?  Book an acupuncture session or facial HERE