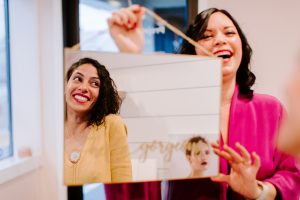 You've been committed. And it's starting to show. You've managed to ignore the voices of judgement and your own inner critic – you know it's backwards thinking to feel guilty about taking care of yourself.
You also know when you say yes to yourself and prioritize your happiness, health, and self-care, everyone wins. You don't believe you have to suffer in silence while everyone is taken care of first – you know that builds resentment and leaves you feeling depleted, defeated, deflated and unappreciated – like a martyr who wears disregard and sacrifice like a badge of honor. You know that when you take care of yourself – exquisite care of yourself – it shows. In fact, it glows. It's that self-care glow.
Nothing speaks volumes like that glow that radiates from a being who values themselves so much they are willing to cherish, protect, preserve, fuel and build their worth. And it doesn't have to look like overspending or overindulging – it could simply look like saying yes to yourself in a way that gives you life. There's something so nourishing about investing in something that makes you feel good, inside and out. Take skincare, for instance…I see a remarkable improvement in the skin of my clients who feel worthy to buy a serum or mask for themselves – it shows that they feel worthy, not guilty, to invest in their appearance and radiance. I see a remarkable improvement in clients who book their appointments in advance – they make a date with themselves to get their self-care in on their schedule. And it doesn't have to be facials, you could book a therapy session, bodywork, pelvic floor therapy, art class, movement class or anything that feels like a yes mentally, emotionally, physically and spiritually.
Recently, I've been inspired by many of my gorgeous clients – I've been seeing some huge shifts in them, not only in their skin, but in their posture, the look in their eyes, their laugh, their essence. It's inspired me to keep up my own self-care, so I can walk my talk. It's exciting to see a man or a woman value themselves and radiate this glow, even beyond their skin. It's a glow that comes from beyond their skin. It's that self-care glow.
I'm even more inspired that my clients are sharing how people can't help but notice their skin and spirit is so bright. I'm just a fraction of the equation here. This really comes from consistent commitment to self. I'm so grateful, blessed and excited to bear witness to the beings of light who shine through my door. It gives me hope.
Imagine what the world would be like if more people came from a place of self-care, self-love and radical self-acceptance. Imagine what we would experience if more people in our community radiated health, joy, peace, power and happiness. There's a path to get there. It starts with you.
If you're committed and consistent, it shows.
If you're not, I'm here to tell you, you're worth it. Book your next service here!